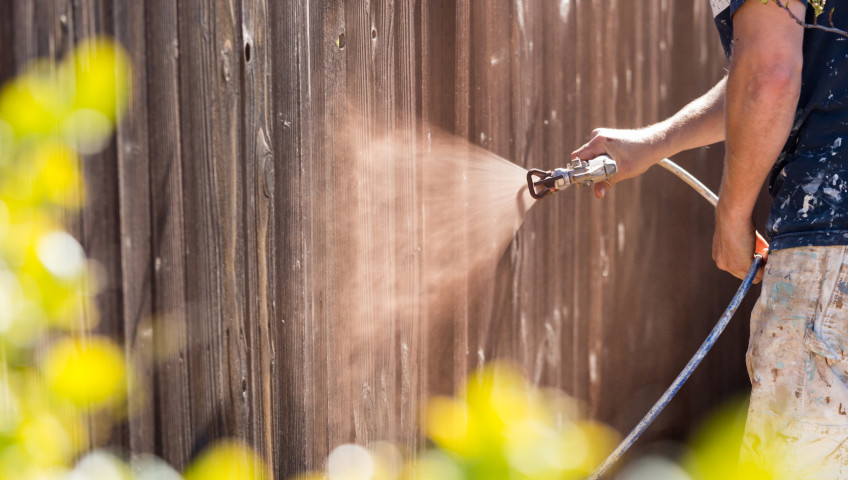 Did you know that installing a residential fence around your home increases the value of your property? Well, it also offers privacy and prevents your pets from running off the property and into the road. Furthermore, it prevents unsupervised dips into your swimming pool and helps to make a strong aesthetic statement.
Over the past few centuries, majority of American homes have featured one type of fence – wood. Wood was selected as the favorite because it is lighter, inexpensive and readily available. There are dozens of styles for one to choose from – crisscrossing lattice, linear post-and–rail, post-cap designs plus picket patterns.
Interested in installing a residential fence around your property? Here is an in-depth look at the types of fences suitable for your home.
Wood fence
As said earlier, it is the popular choice of privacy fencing installed in most homes. Wood fencing is preferred by most home owners because of the amount of privacy it offers. During installation, home owners can request the contractor to install a particular height thus enjoying customization options.
Wood fencing is also affordable and offers an economic way for home owners to improve their property. Though not as easy to maintain as some of the other options, you don't have to break bank if you select to have a wood fence. Despite this, the size of your property and the height of the fence will impact the final price.
Remember, the quality of a fence depends on the type of wood selected. Always seek a skilled contractor with proven experience to lend you their knowledge on what type may be best for your home.
Pros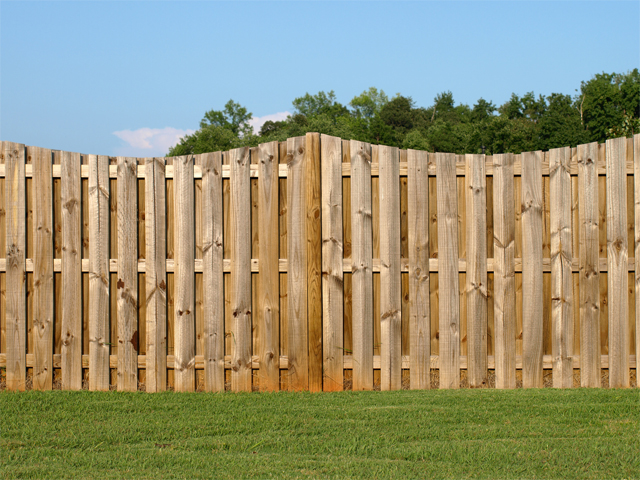 Available in different styles

 Enhances your home appeal

 Affordable

Can be painted in any color

Keeps your pets contained in the property
Cons
May damage or warp due to weather damage

Requires a lot of maintenance
Vinyl fence
Looking for residential fencing that is five times stronger and four times flexible than wood fencing? Vinyl fencing is the right choice for you. Here is why – It is maintenance free as the material used is not susceptible to environmental damage from weather elements. The fence also resists paint which makes it easy for you to clean unwanted stains. Unlike wood fencing which requires a fresh coat of paint to ensure it remains stain free, vinyl fencing can be cleaned with soap, brush and a hose. The end result will be a stain free fence that improves the value of your property.
There are several things you have to consider before the installation of vinyl fencing. For starters, avoid cheap vinyl fencing. Not only will this fade over time but may crack when it is cold or exposed to long periods of sun. Cheaper in this case is not always better. Choose vinyl fencing made with UV inhibitors and impact modifiers. This will help to fight bad weather and increase its lifespan. Lastly, select a skilled contractor with extensive experience to install.
Pros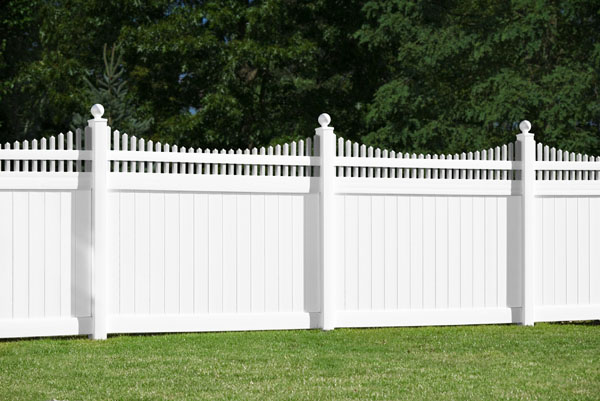 Low maintenance

No need for paint

Easy to clean

Does not produce splinters

Immune to pests and fungi
Cons
Higher upfront cost

Vulnerable to high temperatures
Aluminum fence
If you desire the look of a wrought iron fence or are wanting to achieve better home security without the hefty maintenance costs that accompany it, then select aluminum fencing. Aluminum is one of the best lightweight metals and that is why it is the preferred material for manufacturing. Apart from that, it is corrosion resistant unlike wrought iron. As a result, Aluminum is a long-lasting fence option that provides much needed security and privacy around your home.
There are several designs available which differ in terms of spacing, top rail design and pickets. During manufacture, the panels are tested for horizontal force resistance using a rail strength test. As a result, it offers you peace of mind and usually a guarantee or warranty of some type.
Pros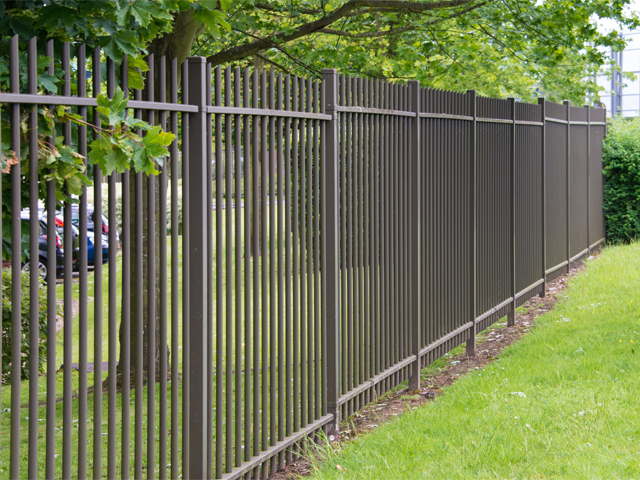 Corrosion resistant

Easy to install

Easy to maintain

Keeps your kids and pets safe
Cons
Not as strong as steel

No privacy
Pool fence
Keeping the pool area safe is very important. For starters, it prevents your children and others from taking a dip when you are not around. Often times helping you to eliminate a lot of tragedies common during the summer. Most of the time pool fencing is made from Aluminum and is available in different designs and colors, however standard is black. To ensure longer lifespan, the posts and screws are made from stainless steel which are corrosion resistant. Furthermore, it can be removed easily and reinstalled in minutes.
Pros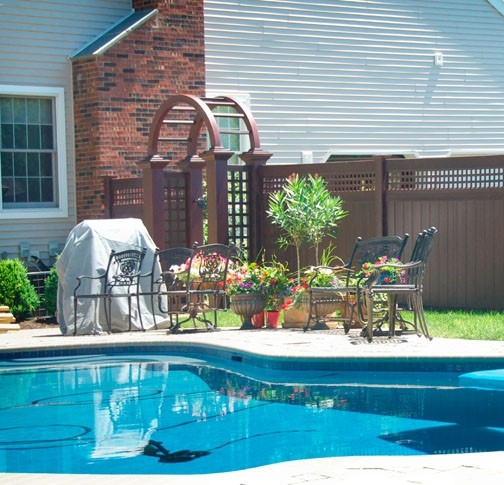 Corrosion resistant

Attractive

Secures your pool area

Lightweight
Cons
Obstructs the view of the pool
PVC fence
As the cheapest fencing option, PVC is often used to replace wooden stakes and pickets. Although PVC is not that sturdy, this type of fence does provide security, giving you peace of mind. PVC sleeves are also used to add stability to the fence thus cutting down on the amount of wood used. Adhesive can be used to attach the cross bars and other times, screws. This fencing option comes in different colors and heights. As a result, it improves the aesthetic value of your property which in turn increases the value of your home.
Pros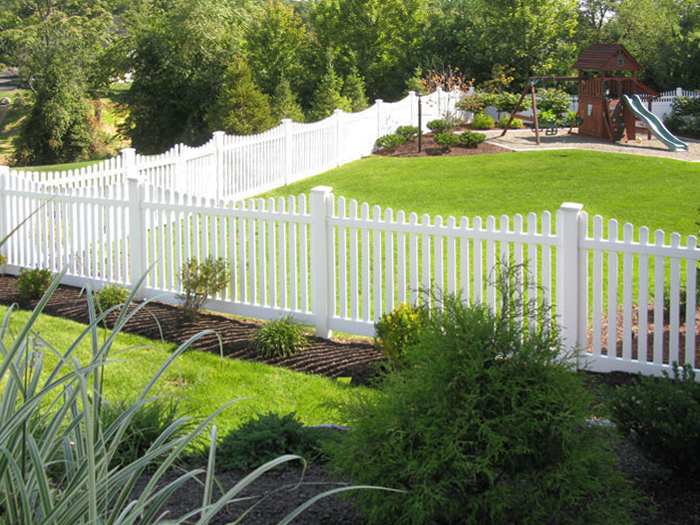 Resistant to elements

Available in different colors

Can be fastened with adhesive and screws

Materials cost less
Cons
Needs to be reinforced with metal
No matter the type if fencing you choose. The main goals which can be achieved are privacy, security and increasing your home value. Often times people will install a new fence to increase home value before a sale thus netting them there invest back in no time! If you need more help in choosing the best fence option please don't hesitate to call Lucky Fencing Today!