How to choose the Right Type of Fence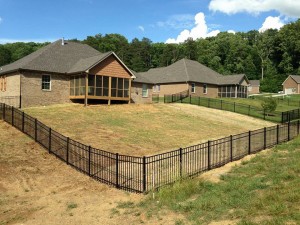 Choosing the right type of fence is an essential part of planning if you are considering on building a fence in your front yard, back yard or patio in Knoxville. Aside from the design, there are also a number of factors to consider first before buying and installing a fence. And after evaluating and ensuring the right type of fence to purchase, it is then time to choose the right contractor to call like Lucky Fence Company for perfect fence installation in Knoxville.
Purpose of the Fence
First thing to keep in mind is the purpose of your fence to be installed. This purpose may include installation for privacy, security, for aesthetics or visual appeal, for the safety of children or pets, or simply to block some noise and the street view. You should check which of these you need most, since these are, in fact, the reason why there are many types of fences available.
Privacy
If you want privacy more than anything, the most commonly used and also the best option must be privacy fences installed as boards such as wood panel fencing. Wood Fence in Knoxville lends privacy from onlookers, neighbors and cars driving by because it has little to no space between boards. Its installation is also cheap, and it also provides a natural beauty to your fencing. However, wood fencing requires a regular maintenance and replacement of lumber to keep it presentable, so you should also be ready for maintenance costs.
Security
If you prioritize security, security fences are best for you. Security fences usually are made of aluminum, steel or wrought iron and are taller with no places to grip to prevent any potential intruders from climbing the fence. However, if this height and lack of grip are still not enough and you have larger budget for your security fence, electric fence would be the best option. Electric Fence's in Knoxville uses electric shocks when touched by a person or animal. This fence also allows more visibility aside from security.
Aesthetics
There are many options available if you want your backyard to be more appealing through your fences. Wood fencing or custom fencing is available. Vinyl fencing is also used both for aesthetics and privacy, and with high resistance to moisture.
Safety
If privacy and security are not the biggest factors, and you only want to prevent your children or pets from crossing the boundary, chain link fence would be the best option. The best chain link fence in Knoxville is made from galvanized or coated steel wires that runs vertically and bent in a zig-zag pattern. It is a very popular fence due to its low cost and ease of installation.
Pet fence's are also available if you want your pets to be more secured. Pet Fence is an electronic system designed to keep pets within a set of predefined boundaries. Here, the collar worn by the pet emits a warning sound when it nears the boundary, and if the pet crosses beyond it, the pet receives a mild electric shock from the collar.
There are many types of fence choices available and sometimes the hardest part is choosing which option will work for you.
Lucky Fencing prides itself in being the best Fence company in Knoxville and we can help you with any question or concern you may have. Don't waste time, Get started today!